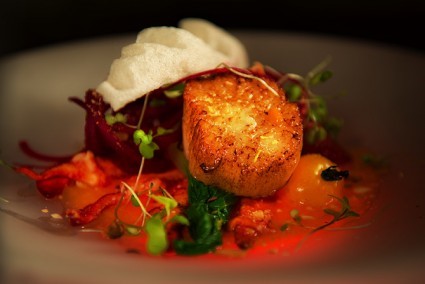 EMBER
Restaurant: Ember
Website: http://www.emberbreck.com
Trip Advisor Reviews: Trip Advisor – Ember
Address:  106 E. Adams
Phone: 970-547-9595
Cuisine: Fine Dining/Global Fusion
Prices: Dinner $15-35
Menu
With many fine dining options to choose from in Breckenridge, I think that Ember stands out as something fun, unique and for the slightly more adventurous.  You will never find the "same 'ol" at Ember, and one of my favorite things about their menu is that it changes quarterly with the seasons.  This is the place that my husband and I go to when we want a romantic but fun evening out.  The staff will make you feel like part of the family and you may even end up with some new long time friends!
The building itself has so much historic charm, and the decor inside blends classic with contemporary style.  The main dining room has a cozy fireplace, and the smaller rooms upstairs each offer their own unique feel.  Chef Scott Boshaw is an incredibly talented self taught chef who isn't afraid to cook outside of the box.  For example…let me just say…"s'mores soup".  Heavenly.  And there is always a vegetarian, seafood and chicken/wild game entree on the menu regardless of the season.
Now let's talk about the bar at Ember…it is amazing!  Their award winning bartender doesn't hurt either!  Todd is known for his unique and inventive cocktails, that are so good they're dangerous.  Come for the Euphoric Hour (Ember's version of Happy Hour) and stay for dinner, you will not be disappointed!