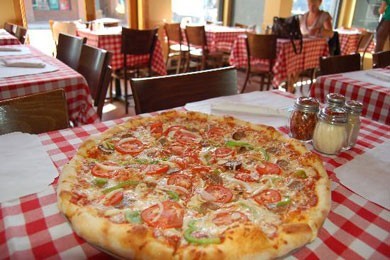 Restaurant: Giampietro
Website: http://www.giampietropizza.com/
Trip Advisor Reviews: Trip Advisor – Giams
Address:  100 North Main Street, Breckenridge, CO 80424
Phone: 970.453.3838
Cuisine: Casual Italian
Prices: Lunch 8-12$  Dinner 9-15$
Menu
There are many amazing places in Breckenridge to get a great meal, from high end steaks to delicious burgers and everything between. There are multiple places in Breckenridge that have pizza. However, if you are a fan of great pizza like I am, you have to go to Giampietro. Giams, as it is lovingly referred to by locals, is without a doubt the best pizza in Breckenridge.
Generally, when you go to a pizza joint you have either thinner crust or deep dish. I am a fan of all things pizza and love both thick and thin pizza. Giams is amazing because they offer both thick AND thin pizzas. I generally go with the the traditional thinner crust, but do love the occasional thick as well. Giams knocks both out of the park. Creating pizza this good is a true art, and Giams has their art form mastered!
Pizza is not the only good thing about Giampietros menu, their pasta, traditional Italian dishes, and salads are also outstanding. The Italian sandwich is a perfect lunch option and far exceeds expectations, pasta dishes are massive and delicious, while salads are an absolute must order. I love the baked ziti with their awesome sausage!
Lunch or dinner this is a must visit in Breckenridge. As a local, Giampietro has become my go to pizza place in Breckenridge. It is important to note that Giampietro is not a huge restaurant, with just a handful of tables it will get crowded even during quiet times. Drop your name and they will call your cell phone when your table is ready, giving you time to wait for your table and go to the awesome shops in Breckenridge! The atmosphere is charming, quaint, and cozy. Great for dates, meals with friends or families, or just grabbing a slice! The prices are very affordable and service is outstanding. For a small restaurant they also have a pretty good wine selection.
Local tip: One of my favorite things to do is get dough-to-go and a big salad. Giams sells their amazing dough for carry out so you can your own pizza at home. Really fun thing to do and because it is on Giams dough, even I can't mess up this pizza! Make sure to grab some of their amazing salads with the awesome Balsamic Vinegar dressing. This is pretty much a weekly event in the Mikita household!