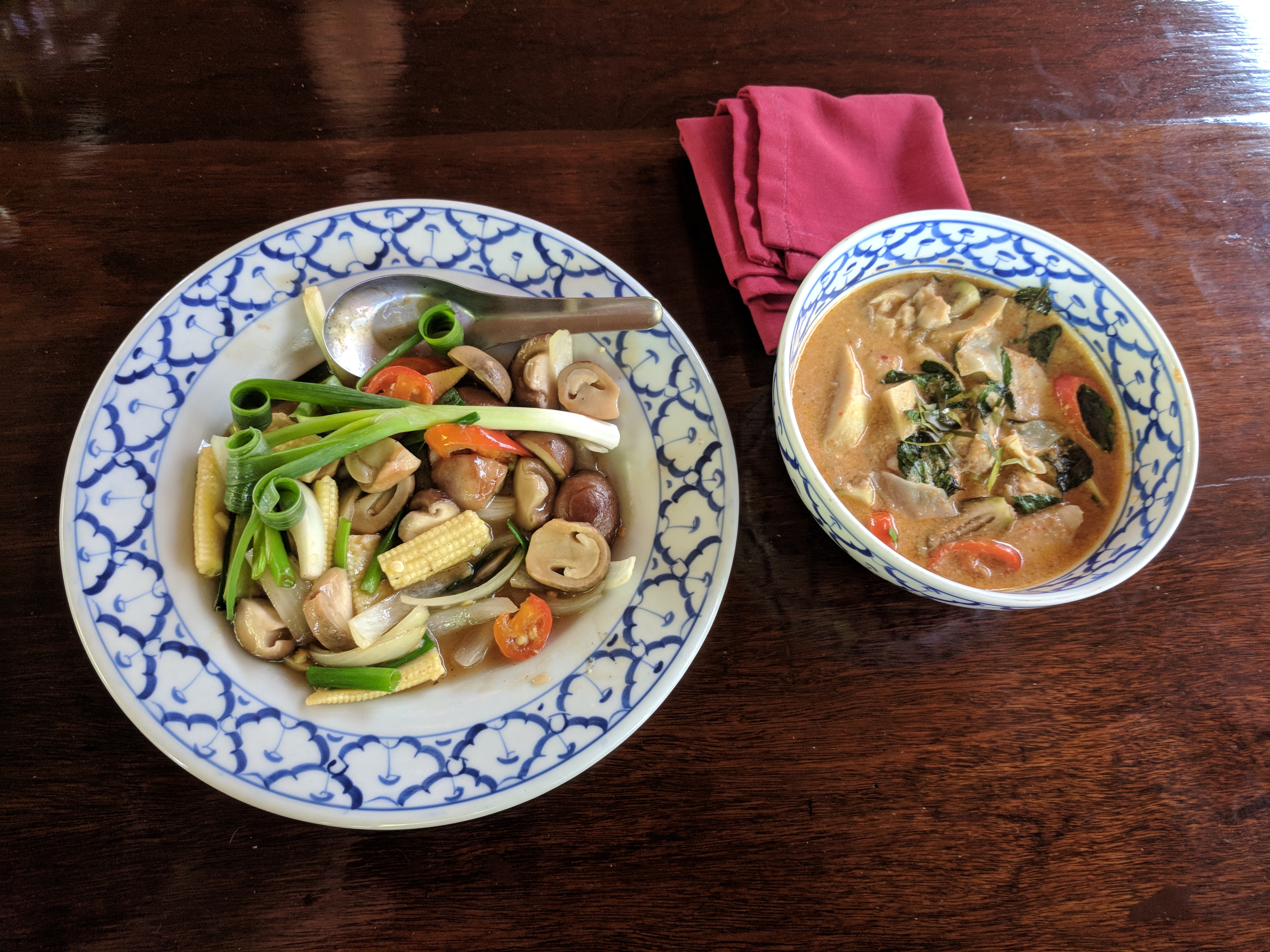 When traveling to Thailand, as a serious lover of Thai cuisine, my sister and I ate our way through the country. Deciding that it was essential to take home some of this culinary brilliance, a cooking class was a must! Knowing the experiences and food could not necessarily be recreated, but some wisdom and technique could go a long way in our home kitchens we went to the Thai Cookery School!
Our culinary learning adventure started with Chef Nan, a Cordon Bleu (Thailand) trained super chef meeting us at a legit Thai market for some shopping advice. The smells, some wonderful, others less than appetizing, all emanated one thing, Thailand. Onward to the cooking school. 
The school and Chef Nan had a wonderful afternoon planned with an array of local culinary delights, including stir fry, noodle dishes, soups, and my favorite a fish curry. Chef Nan has a playful spirit, making the learning fun and approachable. She made the overall experience a total delight, we we're grateful to have her teaching this class! Al this fun while sipping some delicious in name and flavor, butterfly pea tea. 
Chef Nan would show us her techniques, providing useful tips to make an authentic and tasty dish. Then, our turn to attempt to recreate under her watchful and encouraging eye. You will do some chopping and cutting, but for the most part everything  is mise en place and you are combining ingredients and cooking, which saves time and allows for more learning. Thanks to the hardworking minions who prepped the food and did all of our dishes we were able to create several dishes in a short period of time.
I had high expectations for the class and was really looking forward to it. Chef Nan more than delivered on these expectations. I make a lot of curry at home and realize it was being done as a total amateur American chef. While Molly and I never had any complaints about our home made curries, I can't wait to get home and use actual Thai techniques for making curry! With a suitcase full of Thai ingredients and Chef Nan's shared expertise I am seriously elevating my curry game!
We did a half day class, it was reasonably priced (1200 Baht), and came with a pretty awesome cookbook. Thanks again to Chef Nan, the experience was incredible because of your passion, humor, and wisdom. The secrets you shared with us, which we vowed to take our grave, will wow my friends and family! Let me know when you get your restaurant up and running, wherever and whenever it may come to be, it will be amazing! Breckenridge CO. could use some of your amazing eats!