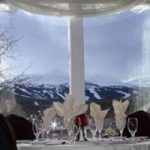 Website: www.hearthstonerestaurant.biz
Address: 130 South Ridge Street, Breckenridge, CO. 80424
Phone: 970.453.1148
Cuisine: Colorado cuisine
Prices: Dinner $28-$40
MENU
TRIP ADVISOR REVIEWS
When you think of a classic Breckenridge restaurant the Hearthstone is likely what comes to mind. The Hearthstone has been a mainstay in the Breckenridge dining scene for decades. Keeping a classic menu with a good variety of Colorado Cuisine. Unlike many of the other local restaurants, The Hearthstone does not regularly rotate menu items. This is allows for patrons to enjoy favorites year after year.I have tried many of the classics on the Hearthstone menu over the years and have never been let down.
One of the absolute must haves on the menu is the Blackberry Elk. The gnocchi that comes with it is out of this world. I absolutely love this dish and it is one of the most consistent dishes in all of Breckenridge. If you are in from out of town, this is a true Colorado dish that you will not regret.
Another delicious dish that is my wife's favorite dish in Breckenridge is the Ginger Sea Scallops. When you think of Summit County, Co. scallops are not what immediately come to mind. However, this is such a unique preparation, one you must try. Listen to this description of the Scallops, "ginger infused crust; orange butter sauce; scallion coconut basmati; fresh snap peas." YUMMY!!!!
For you wine lovers, the Hearthstone also has a giant wine menu. The upstairs, where the bar is, is a great place to have an excellent meal with an epic view of Breckenridge Ski Resort. I would recommend calling for a reservation as the Hearthstone gets very crowded, particularly in busy seasons. A solid happy hour with one of the best Bartenders in Summit County, Maya will be a total adventure.