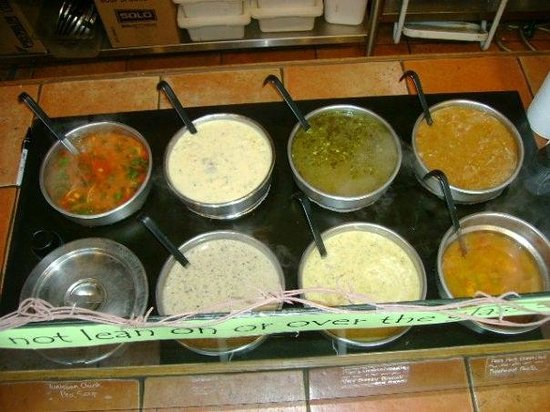 Restaurant: Soupz On
Address: City Market Center (422 Park Avenue Unit 2B)
Phone: Daily Soup Line: 970-547-9791
Hours: Monday to Saturday 11 til soup is gone!
Cuisine: Soup, Salad, Sandwiches, Breads, Cookies
I can safely say that Soupz on is the BEST Lunch in Breckenridge. The food is out of this world. When you live in a place where it can snow in all 12 months, having the Soupz On Soupline on speed dial is common place for locals. With great value, lunch for about $10 a person, incredible flavors and concepts, is just part of the reason that Soupz On is so amazing.
On a cold, snowy, Breck day, when I wake up in the morning I will check the daily rotating menu before I get out of bed. My favorite soups are the Hawaiian Beef Brisket, Jalapeno Cheddar Ale, Reuben, Cheeseburger in Paradise, Thai Coconut, and Chicken Pot Pie, or go classic with the best tomato or chicken noodle soup. Often times I can't decide and will combine two soups to create what I think of as a Souper Soup. The soups change daily, so check the menu before you go.
Salads and bread are a must. The classic Caesar is great, the Chinese chicken salad is tasty, also some days I go big and get the Taco Salad. Usually depends on the soup I am going with. The bread choice is also crucial as dunking is a natural. Jalapeno Cheddar and Kalamata Olive bread are my go to breads. Also, rumor has it they make the best Cuban in town, Seating is limited, most people carry out and eat in town or down by the river.
Also, it is important to note the owners and employees of this place are some of the best people on earth. They are kind, caring, and compassionate. They are like family to me, and treat every person who walks in the same. They care about the community and make Breckenridge a better place. Thank you Soupz On Family!