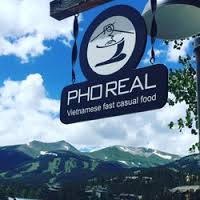 Restaurant: Pho Real
Address: 301 North Main Street (Next to Vertical Runner) Parking access off of Watson
Phone: 970-423-6732
Hours: 11am-9pm Sun-Mon (Check in mud season for modified hours)
Cuisine: Vietnamese, Pho, Noodle Bowls, and Bahn Mi
Website
Trip Advisor Reviews
Menu
Breckenridge was really lacking in a good Asian restaurant, the Chinese restaurants were pretty suspect, to put it lightly. When rumors of Pho Real opening in Breck people were stoked! The fact this place is located next to Vertical Runner where Molly works it was apparent this place would quickly become a part of our dinning rotation, if they could deliver one of our favorite treats, Pho. And deliver they have. 
I have eaten a few meals now at Pho Real, and they have been great, and things are really dialed in now. Pho Real has a small menu, essentially Pho, Vermicelli, and Banh Mi, but it offers many possibilities. With multiple meat and veggie options the menu feels much larger.
My lunch this afternoon was by far the best meal I have had at Pho Real. Grilled Beef Vermicelli Bowl-with everything, and an order of Pork Egg Rolls. The bowl was big and a decent value at $10, big enough for two to share for lunch, or one hungry mountain person. Good flavors, I asked for it spicy and it was delivered exactly to my liking (truth be told, I have a high spice tolerance). The egg rolls were fantastic, crispy and flavorful. Overall, it was a really good meal at reasonable price. 
I am always curious to see the staff when the owner is not around and don't know that I write a blog about the food in Breck. The guys working there, Justin I believe, was super friendly, accommodating, and detail oriented. There was another customer in there had some food issues and restrictions, he made sure to get the order exactly right. Looks like for you veggie folks there would be some options that would be tasty as well. 
This place is best oriented for carryout as seating is limited, there are a few awesome out door table in back. The "assembly-line" (Think Chipotle) style of building your bowl, selecting your veggies and flavors is a great design and allows everyone to have exactly what they want. It works well. 
Overall, we are stoked to welcome Pho Real to the Breckenridge dinning scene! You are filling a noticeable hole that locals and tourists should flock to!